Back in February, North Cray resident, Jacky Cook, raised concerns about dog attacks on the Swans.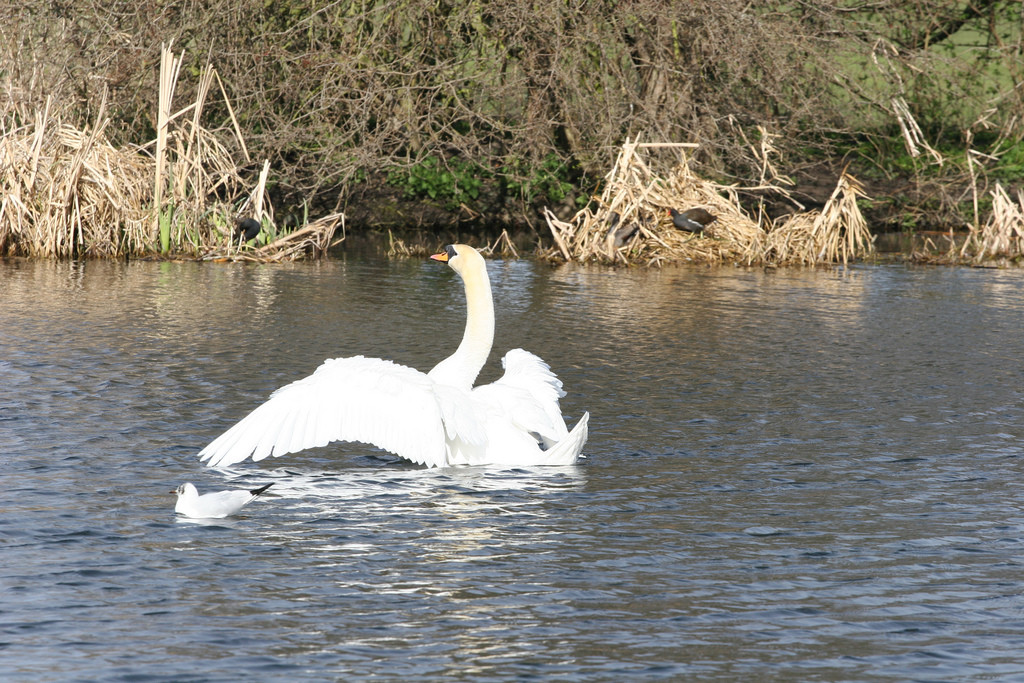 "At Five Arches Bridge, Foots Cray Meadows, there have been an increasing number of incidents of attacks by dogs not on leads and, therefore, uncontrolled in this area which has become a serious hazard to the river wildlife and other users of the meadows.
Last week, a swan was attacked by two Staffordshire Bull Terriers, both owners, were on the bank shouting to call their dogs out of the river and away from the swan but neither dog took any notice.
As usual it's a minority spoiling it for the majority. If you see any such behaviour or incidents and have a camera to hand please take photos  and report it to the police.
This is a wonderful area for walking and dog walking and it should not be allowed to be turned into a free for all with out of control pets spoiling it for everyone else and of course to the detriment of the local wildlife."
Jacky Cook.
The Friends of Foots Cray Meadows then reported the follow up from the local policing team.
Below is a message from The Cray Meadows Safer Neighbourhood of Bexley Police with some healthy proposals to the recent issues. posted 27/02/2015
from : Lorraine.Pinkerton@met.pnn.police.uk
Date : 25/02/2015 – 16:25 (GMTST)
Subject : Cray Meadows – Inconsiderate Dog Owners
Dear all,
The Cray Meadows Local Policing Team have recently been receiving reports regarding the inconsiderate and irresponsible behaviour of certain dogs/owners who use Foots Cray Meadows.
In response to these reports I would like to advise that I am currently engaging with a Wildlife Officer from Sutton Police Safer Partnership, in connection with the "LEAD Initiative" . This initiative is aimed at irresponsible dog owners regardless of breed or social background. This initiative works through engagement, intervention, prevention and where needed, the enforcement of irresponsible dog owners. I will be asking a member of the "lead team" to visit our offices as soon as possible to discuss how this can help.
As part of this initiative I will be seeking permission from Bexley Council to erect new signage at the location and "Coming To Notice Letters" will now be sent to owners of dogs if they come to our notice. We will also take action by way of control orders, and advising the Registered Social Landlords of the owners addresses where appropriate.
I am also liaising with a representative from Battersea Dogs & Cats Home in London. I hope to run a joint Community Engagement Event aimed at encouraging dog owners to be more responsible. Free microchips will be provided, along with ID tags and advice to members of the public. This will be a good opportunity to remind owners about their responsibilities for their dogs around wildlife as well as helping owners to fulfil their legal obligations by having their dogs microchipped by 2016 and having a tag (which is already law).
In the meantime your Local Policing Team will endeavour to provide additional patrols in the area and engage with and advise dog owners accordingly. I have also requested that the mobile park wardens employed by Bexley Council, pay particular attention to the area around Five Arches Bridge and report or deal with any incidents accordingly.
As regards community involvement in this issue I would like to ask that if you are a witness to, or are a victim of any of such behaviour in the future that you report this to the police, as this will enable officers to investigate any offences and take action(s) as appropriate.
I will keep you up to date of any further developments.
Regards,
PC 427 Lorraine Pinkerton
Cray Meadows Safer Neighbourhood Team
Email – craymeadows.snt@met.police.uk
Tel – 020 8721 2292
Important Information for Dog Owners –
 When Visiting Foots Cray Meadows
Please take the time to read the following, it may improve your experience and save you and your dog from harm.
 Foots Cray Meadows is an oasis for people, dogs and wildlife and all can enjoy the Meadows side be side if we keep in mind a few points and issues.
·         Exercising my dog on the Meadows – with over 90 hs of open meadows, woodlands and riverside walks, away from main roads it's the perfect place to walk your dog.
·         Do I have to keep my dog on a lead? No, however, owners must be in control of their dogs at All times, if that means you need to keep your dog on a lead then it is your responsibility.
·         But my dog is friendly.  You know your dog, but be aware of other park users, especially those without dogs who may be nervous of them.
·         Do I have to clean up after my Dog?  It is against the bylaws to allow your dog to foul any part of the Meadows, dog bins are provided. Not only is dog mess unsightly and unpleasant, but it can contain pests and illnesses that can spread to children and other dogs.
·         Can I be fined for not clearing up after my dog ? Yes, enforcement officers can issue on the spot fines in parks as well as on the highway.
 ·         Can dogs go into the lake and river? Dogs are allowed to enter the river down stream of Five Arches, but are not allowed in the lake or the river further upstream (towards Penny Farthing bridge), this area is a designated nature reserve- please see signs.
·         How can my dog disturb wildlife? Even when dogs do not chase wildlife, their very presence will affect many species, breeding birds such as the kingfisher, moorhens and other water fowl are most at risk from disturbance in and around the lake and river.
The area is now so popular with dog walking and the number of dogs is so high, that the disturbance to wildlife is now a significant threat to some species.
·         I can't stop my dog going in the water or after wildlife! It is your responsibly to control your dog.
·         Is my dog at risk? dogs are sometimes attacked by the swans, especially when they have young to protect, even a large dog can get into trouble in the water when faced with a swan. Dogs can also catch certain illness, some serious, from the water.
Remember: You are responsible by law to control your dog. If in doubt put your dog on lead, keep dogs out of the lake and the up stream of the river and away from the swans and please, pleaseclean up after your Dog.
And finally …. The Meadows is fantastic place to bring your family and (if you have one) your dog, so please enjoy your time here and helps us keep Meadows special for everyone to enjoy and for the wildlife to flourish!
http://www.footscraymeadows.org/page14.htm
How is dog (and owner) behaviour in the meadows now?