The new two-storey bird hide at Crossness Nature Reserve was officially opened on Friday 16th May at an event attended by over 50 officers from Thames Water, Bexley Council, Thamesmead organisations, the builders and national and local nature conservation groups.
Guests gathered in a marquee to hear speeches, before David Lindo, better known as 'The Urban Birder', Crossness Nature Reserve Manager Karen Sutton and long-serving Thames Water employee and biodiversity advisor Andy Tomczinski (in whose honour the hide has been christened 'Andy's hut')  cut a ceremonial ribbon.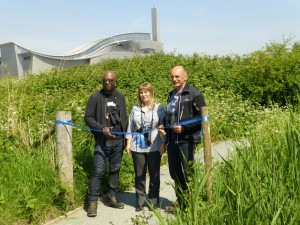 David, Karen and Andy prepare the cut the ribbon ( photo Ralph/BrendaTodd)
Attendees were then shown around part of the site in blazing sunshine by expert members of the Nature Reserve Friends Group, before enjoying refreshments back at the marquee.
Karen Sutton had opened proceedings with thanks to Thames Water for support and funding, whilst highlighting the critical role of her volunteers in having made the site one of the finest in the Borough for wildlife, and one of the top half dozen bird sites in London.
Helen Newman, Thames Water's Head of Corporate Responsibility and Sustainability spoke of the company's pride in the site and the resources it had put into it, praising Karen's work as did everybody else.
Local ornithologist and compiler of the 'Bexley Bird Report' Ralph Todd spoke for the Friends and provided more information about the importance of the site and the fantastic wildlife it supports, indeed just before the event had started the birders already present had seen both a Marsh Harrier and a Red Kite drift over. Particular attention was also drawn to the long list of invertebrates recorded last summer, including a number of rarities. In Ralph's opinion the new bird hide is the best in the whole of south-east England.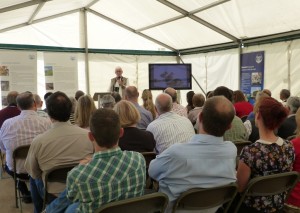 Ralph speaks to the assembled throng ( photo Brenda Todd)
David Lindo  http://www.theurbanbirder.com/  spoke eloquently of the need to engage with the wider public, and about his experiences of doing so with young people who previously had no interest in or knowledge of wildlife. Urban sites such as this provided a great opportunity to do so, and he encouraged us to reach out further by embracing social media such as Twitter, so that people like his taxi driver won't in future be able to say that they'd never heard of the place. David admitted he'd never been to Crossness before, but was clearly impressed, and said he would certainly be mentioning it in his next book.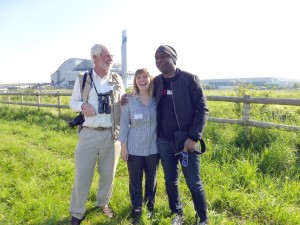 Ralph, Karen and David pose for photographs ( photo Brenda Todd)
The hide, with its panoramic views in all directions, is within the pallisade-fenced 'protected area', but accessible to Friends group members who have the gate access code. For details on joining go to: http://www.thameswater.co.uk/about-us/6245.htm
Hide pictures by Ursula Keene showing the outside south face and inside, top floor.