St. Paul's Academy and Thames21 on the River Cray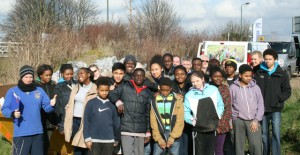 The Thames21 River Cray Project welcomed students from St Pauls Academy Greenwich on Saturday 1st March to Crayford. The school again joined with Thames21 volunteers at the Lower Cray and cleared rubbish, recyclable materials and fly tipping from the River Bank and the Thames Road Wetland at Barnes Cray, This was one of the final opportunities to clear rubbish from the wetland before the onset of spring.
St Pauls Academy have adopted the River Cray as one of their environmental projects and have under the leadership of Geography Teacher Gordon Davis, and his staff Rebecca Hurley and Sean O'Connell, over the last two years completed a number of river habitat improvements at Erith salting's, Foots Cray Meadows and the Thames Road Wetland,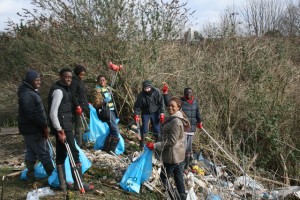 At the beginning of March, 18 year 10 students worked all Saturday enthusiastically removing litter which filled a large skip with assorted rubbish from the wetland and river banks including 46 bags of recyclables. The river bank footpath here was strewn with empty drinks cans as well as other discarded personal items. The student's willingness to come along out of school and remove the rubbish with Thames21 as part of their environmental project supports local residents and sends a message that such irresponsible disregard for the river habitat and local communities is unacceptable.
Michael Heath Thames21 project officer for the River Cray said 'It's great to again work with St Pauls Academy, the students seem to have adopted the Cray and they turn up out of school whatever the weather get stuck in and again they made a difference to the Wetland and the Barnes Cray River Bank which needed attention'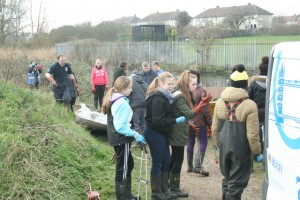 Gordon Davis Teacher said "The students have benefited from working with Thames21 as it equips them with workable skills ranging from team-building, collaboration and independent learning, which are easily transferable to the classroom environment. It benefits our students by making them stand out from other applicants to colleges, apprenticeships and universities. It also supports internal schemes, such as the Jack Petchey Award, and externally through initiatives such as the Duke of Edinburgh Award. It supports students working together across different year groups and so enhances community cohesion in the school. Potentially it makes the students aware of environmental issues whilst being stewards of their communities. The transformation of these students into adults is one of the rewarding experiences of completing volunteering."
Patrick Winston, Principal of St Paul's Academy states "I am delighted that our students have had the opportunity to be involved in this programme. Congratulations to Gordon Davis and his team of leaders."
Thames21 is an environmental charity (registered number 1103997) which works with thousands of volunteers each year to improve London's rivers, canals and ponds.
www.thames21.org.uk @Thames21 Facebook.com/Thames21
The Thames Road Wetland in Crayford was created in 2007 by the London Borough of Bexley. This compact site of 2.4 ha (6 acre) presents a number of management challenges. Never-the-less it packs a large and impressive punch in terms of the species to be found here. Noted for a list of plants that are uncommon in London and Kent, it hosts twelve species of odonata, seven species of reptile and amphibian, and a growing suite of breeding and visiting birds, including one of the few Bittern's recorded in Bexley. Being an urban wetland the site needs to be tended during the winter months to remove existing and new rubbish and to retain its wetland and variety of habitat when wildlife disturbance will be at a minimum.