Reports and meeting announcement from the Sidcup Community Garden Group.
Community answer the call to restore Sidcup's "Secret Garden".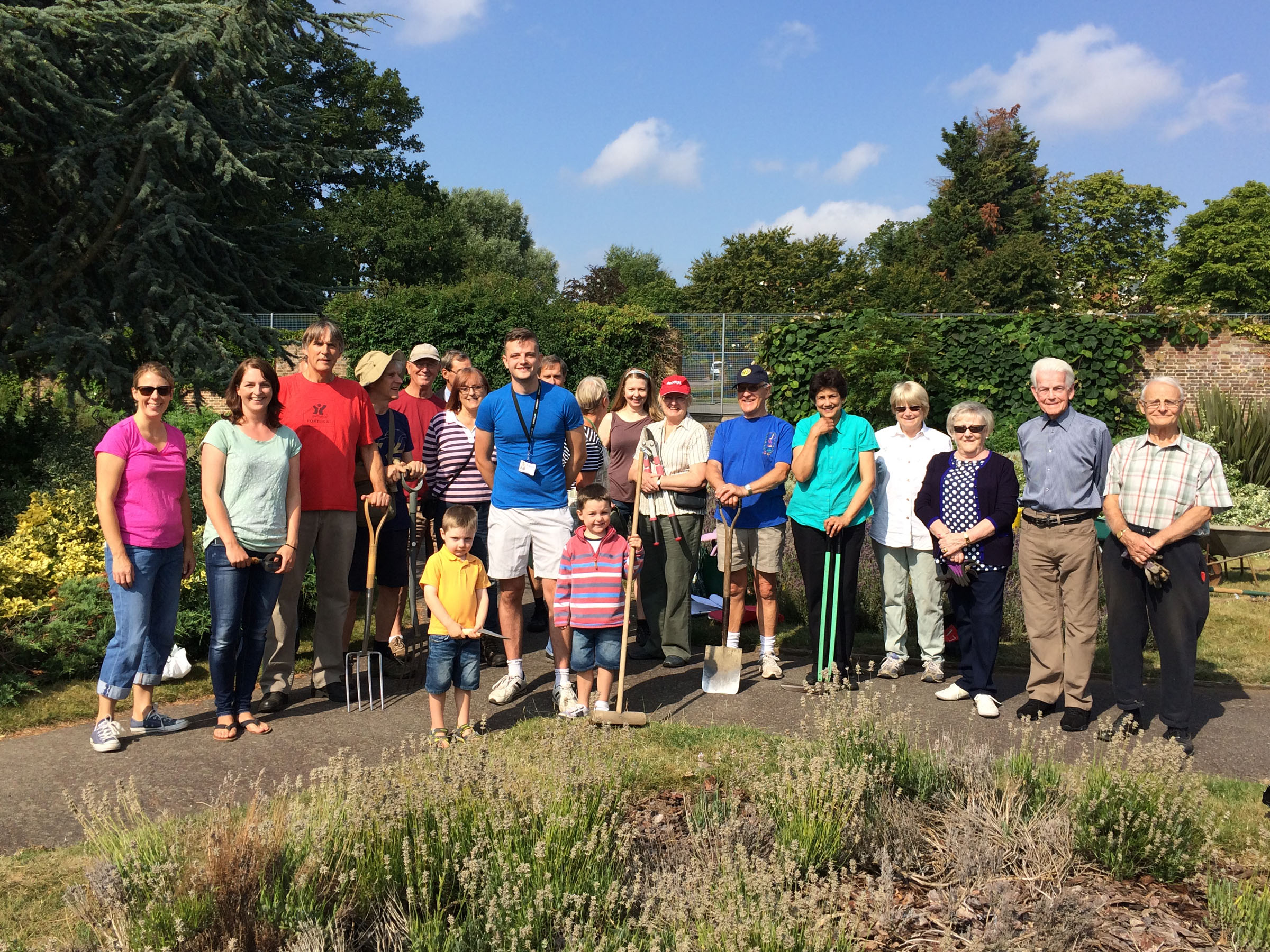 Council cuts backs meant that the once beautiful walled garden at Sidcup Place was allowed to decline, and become overgrown through lack of maintenance. The garden, often known as Sidcup's Secret Garden was home to a collection of beautiful roses, shrubs and plants and a place to relax and admire the flowers and foliage.
The Sidcup Community Project has now been launched. After seeing the sad state of the garden himself, local Sidcup Councillor, Rob Leitch, decided to set up a community takeover of the site, to clear the out-of-control weeds and re-plant the beds. The restoration project has gone down well with local residents with over 50 signing up to the voluntary initiative.
In just two meetings, volunteers have cut back overgrown foliage, cleared weeds, cut grass and all the groundwork needed, ready to replant the flower beds. The volunteers were joined by youthful volunteers from Lark in the Park. They repaired and painted fences and cleared old flower beds.
Malcolm Greening (72) and David Dennis (70), both members of the Sidcup Rotary Club's Community Service Committee were both hard at work cutting back the overgrown trees and bushes that form the centrepiece of the gardens. David said: "It was such a lovely place, but has declined dramatically in recent months, it will be good to see it all restored to its former glory".
Cll Leitch has secured sponsorship and help from a number of local businesses, including . Ruxley Manor Garden Centre, MiddletonMurray recruitment, NJ Lewis & Associates surveyors, Indalo Property Services, the Rotary Club of Sidcup, New Community Church – Lark in the Park and a number of private donors
Commenting on the launch of the project, Cllr Rob Leitch said: "We live in an age where community spirit is considered to have been lost. However, the early stages of this project suggest that Sidcup's community spirit is alive and kicking. To have so many local residents signing up, local businesses offering sponsoring and existing community initiatives like Lark in the Park coming on board speaks volumes about how much local people care about their area. We are privileged to have our own secret garden in Sidcup and together, we will restore it to its former glory".
'I have been extremely encouraged by the response that the Sidcup Community Garden Project has provoked in the local community. Over 50 volunteers have signed up to support the restoration of the garden, without whom this project would have never taken off. Likewise, we have had terrific support from local businesses and private donors who have sponsored border beds or equipment for the initiative. It is wonderful to see the community pulling together, with volunteers of all ages and backgrounds, to enhance one of our hidden gems in Sidcup. The project is in its early stages but with so much support from the local community, I truly believe that anything is possible. This project proves that community spirit is alive and kicking in Sidcup, and long may that continue.'
---
Rob Leitch's own email.
Thank you for your ongoing support with the Sidcup Community Garden Project. I am pleased that our efforts have generated a bit more local press in the Bexley News Shopper.
 To update all members, to-date we have:
1. Recruited around 50 individuals to volunteer at the garden.
2. Taken the decision to clear the border beds only in Year 1, and simply tidy up the remaining beds and grass.
3. Gained the sponsorship of nine local businesses/private individuals who are each sponsoring a section of the outside border beds for a set fee over a two year period.
4. Secured the use of the old tennis hut for storage of equipment.
5. Started work towards a water supply solution – more on  this at the next meeting. 
6. Fixed and painted the fence – due to the support of Lark in the Park and their volunteers.
7. Hosted two 'action days' to clear the border beds and dig over the soil ahead of fresh planting, filling two skips in the process. 
8. Opened a community bank account with HSBC. 
9. Generated further interest through local press with the News Shopper and the Bexley Times.
10. Started to design new signage for each bed and the garden as a whole with a local signage company. 
As you will see, we have made enormous progress in a short period of time – all as a result of your hard work and willingness to volunteer. However, with the clearance stage now complete, we need to formalise our group and decide how to move into the planting and maintaining stage of the project.
As such I would like to have a meeting on Monday 7th September at St. John's Church, Sidcup, starting at 7pm. This will take place in the main church building – not the church hall. Many thanks to St. John's for hosting us again.
I have attached a draft agenda. Please do feel free to add to it on the night, but it gives us a rough plan to start with. I am particularly keen to ensure that different individuals take on specific roles within the group. I have always believed that the more structured the group, the greater our longevity and chances of success will be.
I very much hope to see as many of you as possible on Monday 7th September as we plan the next exciting stage of the project.
Very best wishes,
Cllr Rob Leitch
Agenda for Meeting 7th September.
Meeting Time: 1900hrs
Meeting Location: St. John's Church, Sidcup – inside the main church building, not the church hall.
AGENDA
Apologies for absence
Project update – Rob Leitch
Nominations for Committee posts
– Chairman
– Treasurer
– Project Manager (day-to-day oversight and planting plans)
– Health and Safety (including insurance)
Japanese Knotweed update
Water supply update
Future dates of meetings and work days
Any other business