Natural Heritage Day
Camley Street Natural Park, 12 Camley Street, London, N1C 4PW Friday 24th October, 10.30am-4.30pm.
The Heritage Lottery Fund would like to increase investment in natural heritage by encouraging applications from a wider range of organisations, including smaller groups developing solutions to the conservation needs of their local areas and reconnecting more people to nature. This event, run in partnership with London Wildlife Trust, is suitable for smaller organisations or community groups, especially those who have not have applied to HLF before.
Through informal activity, presentations and discussion we will focus on key issues for developing ideas into fundable applications.
Programme
Morning (10.30am-12.30pm) The (optional) morning session will involve outdoors activity led by London Wildlife Trust so be prepared to get your hands dirty.
Lunch (12.30-1.15pm) A light lunch will be provided, with the opportunity to chat with other delegates, HLF and London Wildlife Trust staff.
Afternoon (1.15-4.30pm) The afternoon session will include presentations and discussions on how to develop an application for a project.
The programme will cover London's Biodiversity Action Plan (BAP) and most urgent biodiversity needs; recording data for natural heritage projects; engaging volunteers, and working in partnership; with case studies of funded projects.
RSVP Places are limited so please rsvp to Gillian Goode at Heritage Lottery Fund (gilliang@hlf.org.uk) before 19th September if you would like to attend, indicating whether you will attend the whole day or the afternoon session only.
A full programme for the day will be sent to delegates in October.
http://www.wildlifetrusts.org/reserves/camley-street-natural-park
http://www.hlf.org.uk/ourproject/projectsbysector/landandnaturalheritage/Pages/index.aspx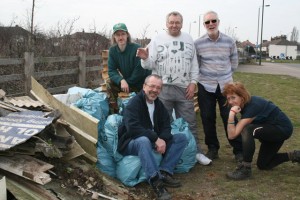 Thames21 volunteers with litter and fly-tipping removed from Thames Road Wetland and along the lower Cray.