One, and probably two different Four-spotted Chaser dragonflies (Libellula quadrimaculata) were seen at Crossness on Erith Marshes yesterday (June 19th), the first record since that shown in the Kent Dragonfly atlas of 2009, which may itself have been of a sighting pre-dating the original version of the book which was published almost a decade and a half ago in 2001. The London biodiversity records centre does not yet hold any records of the species in Bexley, though we now know it is also at Footscray Meadows. Perhaps the previous Crossness record is held instead by the Kent records centre.
I disturbed one of the insects from grass and sedges about 50 metres west of the new 'teapot' pond on southern marsh, and it settled well enough to get some rather 'grainy' mobile phone photographs – good enough at least for others to see that the identification is correct! The other that I saw very shortly afterwards, was holding territory on the pond itself, repeatedly coming back to perch on a broken dead reed stem poking out of the water.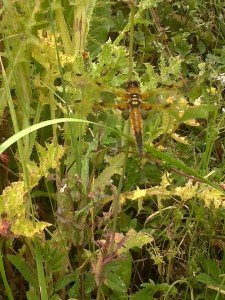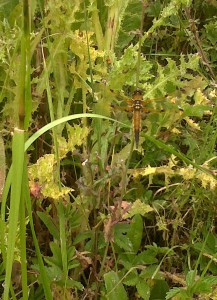 The atlas recorded presence only, and could not confirm breeding. The location of the 'dot' on the map suggests it may have been on the large and usually inaccessible water body within the sewage works fence on the northern part of the site. These new sightings may indicate that the species has been overlooked here for some years, or that the new pond has resulted in a fresh colonisation. What appears to have been two fresh-looking individuals is certainly suggestive of on-site breeding, rather than adult insects that have flown in from somewhere else just this year.
Azure Damselflies were ovipositing at the pond in tandem, and one female was seen to break free and submerge itself by climbing down a water plant. The male hung around for some time, as did I, but she didn't re-appear and I wandered off. Blue-tailed females were egg-laying solo.
A male Emperor in dashing blue took to the wing, and another, along with a Black-tailed Skimmer, were seen at the southern marsh wader scrape later on, with 3 or 4 four Small Tortoiseshell butterflies also seen in the vicinity. Two Large Skipper butterflies were noted on the southern marsh.
All these sightings were made in the afternoon, after the advertised Dragonfly walk, which was unfortunately afflicted by an overcast morning which severely limited the numbers of Odonata seen by attendees. Later on, by contrast, it was sunny and hot.
Since the Four-spotted Chaser sightings are a confirmation of a species already noted as being at Crossness in the Bexley Odonata checklist
https://app.box.com/shared/static/unss43sov3n28uaqg99ao1rzujn13r1j.doc
it continues to languish in second place on the species count league table, one behind Footscray Meadows (15 species) and just one ahead of Danson Park , and with Emerald Damselfly still needing to be confirmed as an ongoing presence on the marshes rather than a past or very occasional record. All these sites have the potential for more species, however, so keep your eyes open ………
A Kestrel was seen, and Two Little Egrets were fishing very successfully on the Tilfen pool, as I left Crossness in the early evening.
Chris Rose