Our regular update from John Turner from his weekly visits to Danson Park.
Interesting to note the small numbers of ring-necked parakeets in his day time observations now that Danson is becoming a regular night time roost for around 2,000 parakeets.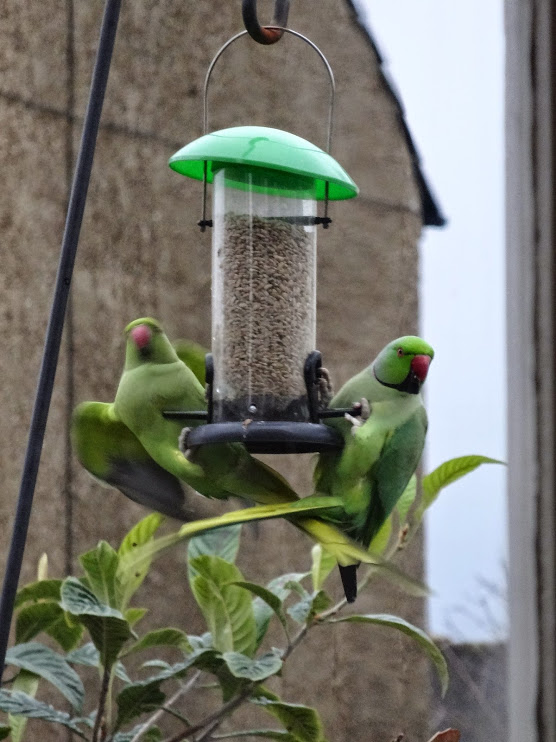 We are always interested in receiving regular reports as it helps us build up a picture of the wildlife in our area.
January Danson Park
01/01/2015
06/01/2015
16/01/2015
20/01/2015
26/01/2015
a.m.
a.m.
a.m.
a.m.
a.m.
Great-crested Grebe
2
1
2
2
1
Little Grebe
2
3
4
4
2
Cormorant
4
6
6
5
4
Heron
3
3
2
2
1
Mute Swan
5
5
5
5
5
Canada Geese
59
57
41
21
43
 Grey Lag Goose
1
Grey lag/ Canada hybrid
1
Egyptian Goose
7
8
6
9
5
Mallard
124
96
90
102
111
Teal
1
Shoveler
13
Pochard
2
Sparrow Hawk
1
1
Moorhen
39
31
24
14
43
Coot
125
121
120
93
110
Water Rail
1
1
Black-headed Gull
200+
200+
200+
100+
200+
Common Gull
41
32
13
21
41
Lesser Black Backed Gull
1
2
2
1
1
Herring Gull
19
2
4
1
6
Yellow-legged gulll
Wood Pigeon
22
6
23
14
26
Stock Dove
2
2
4
3
6
Collored Dove
2
Ring-necked Parakeet
12
14
13
9
11
Kingfisher
1
1
Green Woodpecker
1
1
Greater-spotted Woodpecker
2
2
1
2
Nuthatch
1
1
1
Pied Wagtail
2
Grey Wagtail
1
2
Wren
2
3
1
Dunnock
4
1
Robin
6
10
19
17
16
Blackbird
14
20
19
8
26
Mistle Thrush
4
3
3
3
Song Thrush
1
Blue Tit
7
3
8
6
9
Great Tit
5
3
11
10
10
Coal Tit
Long-tailed Tit
6
4
4
4
Starling
2
Jay
2
Magpie
5
5
2
3
14
Crow
41
46
84
48
23
Jackdaw
House Sparrow
Chaffinch
4
3
4
2
2
Greenfinch
5
3
Goldfinch
1
2
6
Goldcrest
Siskin
Redwing
3
15
2
5
Fieldfare
2
1
5
2
Grey Squirrel
4
8
7
7
8
Brown Rat
2
3
2
Fox