Today (Feb 27th), despite a cold and frosty start, the sun shone on 9 of us as we undertook a major litter pick adjacent the Crossness Southern Marsh.
Some recent illegal grazing under the flyover next to the southern marsh, revealed a horrendous amount of wind-blown litter from the Eastern Way flyover above. It was an absolute eyesore; an eyesore that I had to see every day on my way into work.
As we made our way into the area, I saw hearts sink at the appalling mess and the challenge of clearing it all. In fact somebody commented on the fact that it was the worst accumulation of litter that they had ever seen, and that it would weeks to clear it all. But clear it they did! Fifty-five rubble sacks full, plus large items (car bumpers, crates, water tanks) that weren't baggable.
It has transformed the area and I am immensely grateful to those hardworking volunteers for brightening up this little area.
A hay bale remained from the illegal grazing. This, coupled with a 'men at work' sign from among the rubbish, made for a good photo opportunity at the end of what was a very challenging, but productive, volunteer event.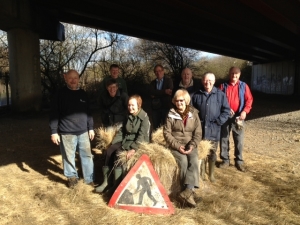 Karen Sutton – Biodiversity Team Manager, Thames Water Crossness Nature Reserve