Crossness Nature Reserve had to close over the Bank Holiday weekend because of tresspassers. Karen Sutton, Reserve Manager writes on the aftermath.
I am pleased to report that the travellers have now been moved on and access to the Protected Area of the nature reserve has resumed.
I'm afraid, as you will see from the attached photos, that they have fly-tipped and dumped rubbish all over the fields at the east of the site which are owned by Cory Environmental (the people that own the Waste-to-Energy facility at the end of Norman Road).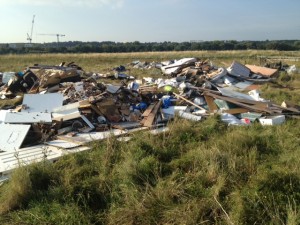 Cory will be organising a clean-up over the next few days. They also intend, I hope as a quick-fix rather than a permanent measure, to install a load of containers along the length of the boundary to prevent a reoccurrence.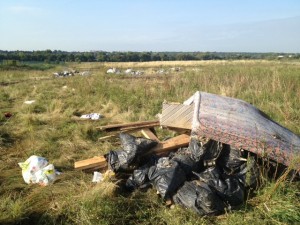 Something needs to be put in place to prevent a return, but I hope that the permanent solution will be less visually intrusive, particularly since this is an area where visitors like to watch ringed plovers, little ringed plovers, skylark etc.
Karen Sutton – Crossness Nature Reserve Manager
Thames Water Crossness Nature Reserve, Crossness Sewage Treatment Works, Belvedere Road, Abbey Wood, London SE2 9AQ Karen.sutton@thameswater.co.uk