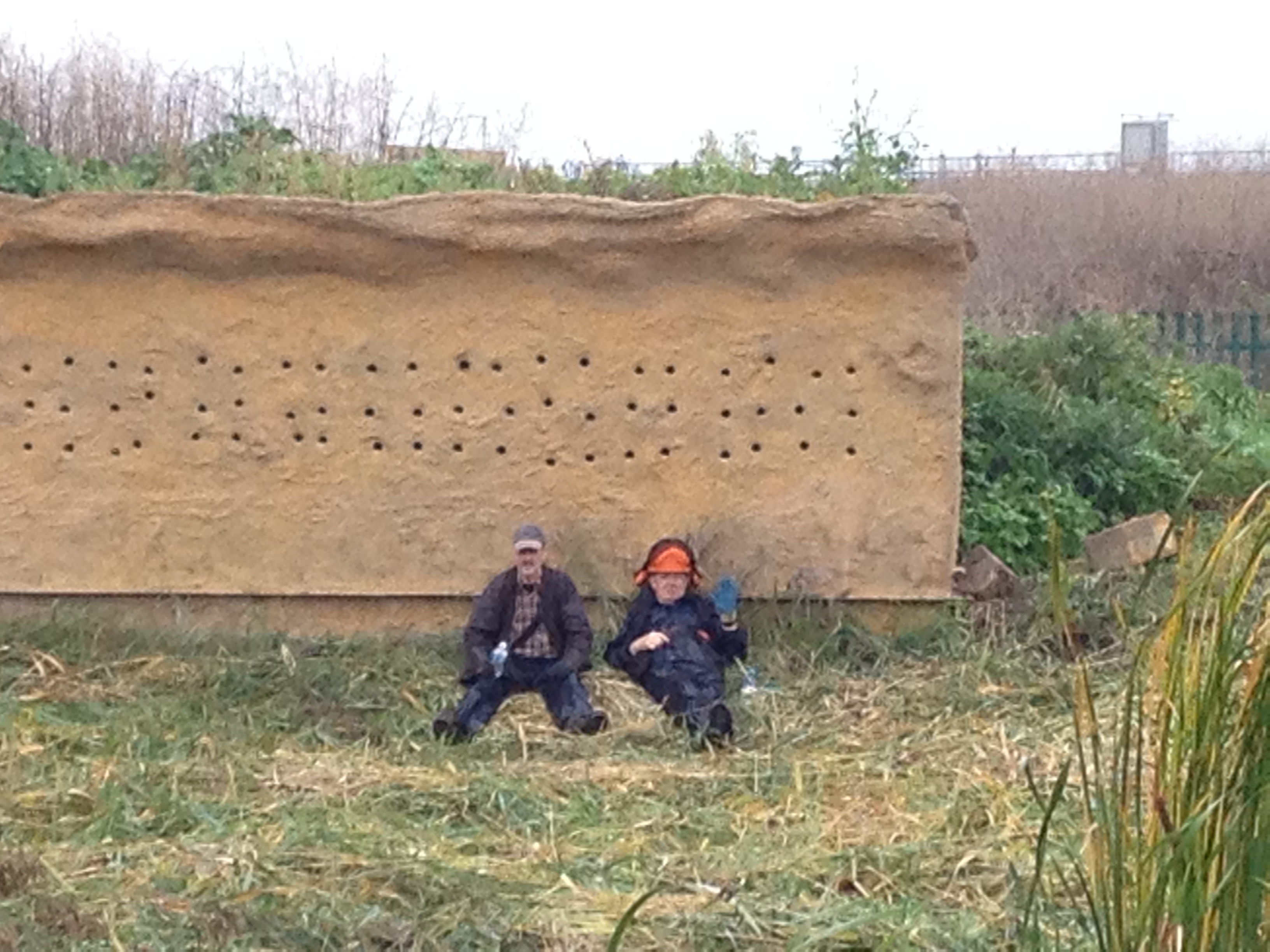 Dear Friends of Crossness Nature Reserve,
 

Attached is a picture of my two faithful volunteers, Reg and Roger, sitting down. Yes, sitting down! Mid-task!! This has never happened before!!!
They have been incredibly busy cutting reeds around the wader scrape. The reed was so tall, wet and heavy, that it caused my hard-working volunteers to sit down half-way through the cutting process! They NEVER do this! I cannot, in all consciousness, ask them to rake and clear all this vegetation too; there is simply too much.
So this email is a plea for your help. On Weds 11th Nov (Wednesday next week), we will be raking, forking, and possibly burning the cut reed, and we would really appreciate your help.
If you happen to be free, please do come along and help. No skills or specialist knowledge required. You will be rewarded with a nice picnic-style lunch in the bird hide afterwards. We start at 10am, finish work around 1pm, and lunch until 2pm. And we really are a nice friendly bunch, so please do come along. The Norman Road gates (DA17 6JY) will be open at 09.45 for vehicle access.
Apologies for the picture quality. It was taken on my phone, at some distance, from the opposite bank where I was still working!! (I'll be in trouble if I don't add that I pitched up after the hard work was practically done, and I was only cutting short grass, not 8ft tall reed

J

. My honesty will be my undoing).
Please let me know if you'll be joining us, so that I can organise tools and refreshments accordingly. Please wear wellies if you have them, as we will be working in a wet area. If you don't have wellies, please do wear good sturdy boots.
Look forward to seeing you then.
Karen Sutton – Biodiversity Team Manager
Thames Water Crossness Nature Reserve
Crossness Sewage Treatment Works