A project to eradicate Spanish and hybrid Spanish x native Bluebells from Bursted Woods was started in spring 2013, with permission from the Council, and is now part of Bexley's Biodiversity Action Plan (BAP), and is ongoing.
The problem is that the native and Spanish Bluebells will hybridise, and in turn produce fertile offspring, so that over time, we may gradually lose the fantastic carpet of our true, daintier, deeper blue species from this local woodland.
Fortunately the Spanish/hybrid plants are concentrated at the eastern and western ends of the wood – presumably planted there some time ago by 'well-meaning' people – and are fairly easy to tell apart, especially once in flower. By digging them up we can maintain the large core area of native Bluebells (Hyacinthoides non-scripta) on the site.
For more information, or to get involved, contact chrisrose@gn.apc.org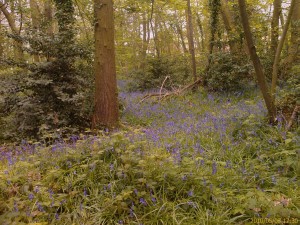 Picture: Native Bluebells in Bursted Woods, Barnehurst. The UK holds almost half the world population of this species.
An article about the issue from The Independent, April 13th 2013.
Do remember that it is illegal to start removing plants without the landowner's permission (and illegal still for some plants even then). So, please don't just start removing plants in case you get the identification wrong.