It's good to know Bexley Council will continue to studiously pay attention to our interests once we're no longer alive, as implied by this banner at Erith Cemetery, but 'listening to you, working for you' is, perhaps, somewhat beyond even its capabilities once we're dead and disposed of …….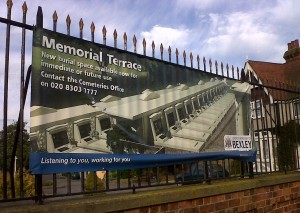 Here at 'BW' we're rather more exercised by whether the Council is sufficiently concerned about the kind of legacy it's going to leave for future generations of the living, particularly in relation to its 20th century style, concrete-led 'growth strategy' and the decisions it has been taking regarding the future of open spaces in general and Sites of Importance for Nature Conservation in particular, most recently in voting unanimously to trash 70% of the Grade 1 Erith Quarry SINC which virtually adjoins the cemetery.
We sense another Freedom of Information Request coming on. Something along the lines of 'What account has Bexley Council taken of the potential impact on demand for increasingly limited burial space in the Borough posed by the fivefold increase in housing it now wishes to see built in the area by 2030' (a policy no one alive or now dead has voted for, since it wasn't in any Tory manifesto we can find for the last Borough elections in 2014).
http://www.bexleywildlife.org/bexley-council-jacks-housing-building-numbers-five-fold-with-little-regard-for-sustainability-or-transparency/
'Listening to you, working for you'? How much did they pay some whizz 'communications consultant' to come up with that one ……