Crossness Kestrels in  hardcopy 'News Shopper' two editions running. Joined by Swifts this week.
The Kestrel family at Crossness Nature Reserve on Erith Marshes was splashed across the top of the front page in last week's 'News Shopper', so it looked like a larger piece with quotes from Site Manager Karen Sutton might go unused – but no, there is an even bigger item in this week's (Weds July 8th) edition with all the relevant background.
This week's copy also contains an item about Swifts over Belvedere village, along the lines of the piece on 'BexleyWildlife' recently.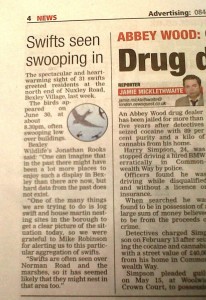 Three 'News Shopper' journalists are following 'BW' and/or the 'Greener Bexley' charity's Twitter feed, so that is helping to put Bexley wildlife and environment stories on their radar. But in order to heighten public interest in these issues all our local groups should seek to do more to promote the good work we are doing. Richard Spink's excellent photographs have undoubtedly propelled the Kestrel story to its current prominence, and it remains true that 'a picture's worth a thousand words', so the two things we all need to do is try and make sure we have someone taking quality photos at our events, and then someone whose job it is to get that material to a wider audience, including the local media. Whilst the followership of 'BW' is increasing, it's still miniscule compared to the readership of outlets such as 'Newsshopper', and it's the wider public we need to reach out to and not just ourselves if we are to win conservation battles!
Chris Rose. Vice-chair, Bexley Natural Environment Forum.