This website has been set up local charity Greener Bexley, which exists to support conservation in Bexley, and we have been working closely with Bexley Natural Environment Forum to develop the content of the site.
The various pages are designed to provide an overview of wildlife and conservation activities in Bexley, and issues affecting these whether emanating from within or outside of the Borough. The site is designed to support the work of relevant local groups, and more information about them, and links to their own websites, can be found under the 'Groups' tab on the menu bar.
This site aims to encourage more active participation in conservation activities locally, to increase interest in nature by being a 'shop window' for conservation in Bexley and to show opinion formers the importance to local people of these matters.
Greener Bexley's charitable objects are:
"The education of the public by the promotion, support assistance and improvement of museums, libraries and local studies and the conservation, protection and improvement of the physical and natural environment both within the London Borough of Bexley and the education of the public in the conservation, protection and improvement of the physical and natural environment."
Which is a long winded way of saying that we are working on conservation and cultural activities in Bexley.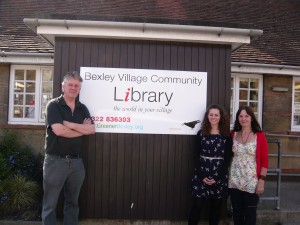 We used to run Bexley Community Library in Bexley Village and Slade Green Community Library at the new Howbury Centre. We work to support local conservation groups by promoting their activities and campaigning on conservation matters in the Borough.
If you are involved in a local group we can help you by promoting your activities through this website, Facebook and Twitter. We are also keen to assist with projects.
For Greener Bexley drop a line to <jonathanrooks1@outlook.com>
Our other website is GreenerBexley.org
Chris Rose chrisrose@gn.apc.org does much of the work on this website and our Facebook page on behalf of Bexley Natural Environment Forum.
Constructive comments and offers of help welcome.
And as it always says on these sort of sites, comments and views expressed here are not necessarily the views of Greener Bexley or Bexley Natural Environment Forum.